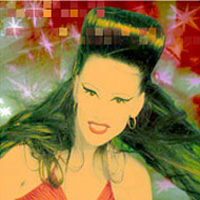 Lina
Living in Paris since forever, Lina started her first band as lead singer when she was still in high school. She sang in numerous exuberant parisian bands so far. A few years later she met Calvez, a strange bassist, who co-wrote with Arnold Turbout, a famous french composer, her first album "dans cinq minutes j'suis prete" and which was released on East-West and Sony music. Working with the same team, she released her 2nd album called "redevenir modeste" ("becoming humble again").Lina who likes color and hates to stay quiet is currently running a shop in Paris' flea market in order to statisfy her taste for old, wild and extravagant clothes.

Lina are:
Lina
Their music:
27 000 000 de mecs (neu peuvent pas tromper)
rester au soleil
supercheri
delice ideal
girouette (edouard)
la vie qu'on meme
lina from paris
tigresse silencieuse
washi washa
ange decu
redevenir modeste
27 000 000 typen (können nicht irren)
bleib in der sonne
Their releases:
redevenir modeste
Booking:
apricot
Contact them:
lina@apricot-records.de
Official Website:
http://www.linafromparis.com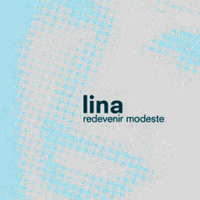 Lina
redevenir modeste
Shop:
apricd008

good things come from france - we, at apricot records know that, of course. so quite often, when the working day comes to an end, we go to our favourite little bistro and celebrate the french way - "bon soir,
jacques, le ...eh...best wine, s'il vous plait". the next 'morning, sitting together in our office, we eat eclairs and read le monde, just to see if our football-boys from paris saint germain were lucky enough to win a game. yes, we know how to enjoy our lives. with "redevenir modeste" lina returns to sing out loud about the everyday life of a french girl: young boys waiting for the chance of a rendez-vous, kisses on cheeks for strangers, fleamarkets near the seine.


Tracklist:
1 27 000 000 de mecs (neu peuvent pas tromper)
2 rester au soleil
3 supercheri
4 delice ideal
5 girouette (edouard)
6 la vie qu'on meme
7 lina from paris
8 tigresse silencieuse
9 washi washa
10 ange decu
11 redevenir modeste
12 27 000 000 typen (können nicht irren)
13 bleib in der sonne