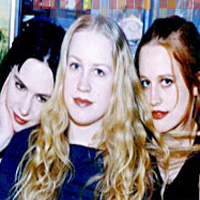 -phy
phy is a band who's music is not easy to catagorize, even experienced listeners have problems placing them in a specific musical genre. Melodic, melancholic, complex minimalism are definitions that have been used on the -phy sound.
Ingrid and Vigdis started up in 95 with an instrument course trough a female music organization called AKKS. After the course they decided to start a band, but they needed a bassplayer. They met Ellen at the bar and she told that she had learned to playthe bass from a Clawfinger member. They all moved in to a big house they called CasA PhY. And what does -phy mean? Think of words like philoso-phy and you'll come up with more... .
A tour in Norway in January 1998 and several releases mark their way so far...
-phy are:
Ingrid M. Tolstad - Lead and Backing Vocals, Guitars
Ellen M.I. Ersfjord - Bass, Backing Vocals
Vigdis Sjelmo - Drums, Percussion

Their music:
moonstruck
Their releases:
moonstruck
Contact them:
phy@apricot-records.de
Official Website:
http://listen.to/-phy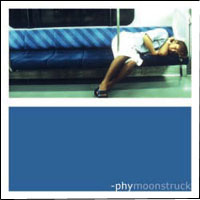 -phy
moonstruck
Shop:
aprivin010

7" limited to 800 copies, handnumbered, transparent snowy bonbon vinyl

Ingrid, Ellen & Vigdis, three beautiful girls from a country so way up north that people call it norway, decided to form -phy in 1995. they moved together in a house called casa-phy and tried to capture warmth, melody and melancholia in their songs. while the boys from their hometown trondheim began to conquer the european football scene the girls from -phy went to put a magic spell on the world. crystal clear, fairy-like vocals, pure beauty. we tried not to breath while
listening to "moonstruck" and we stayed up until the day was dawning, playing their songs again and again.


Tracklist:
1 moonstruck