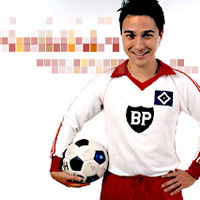 Space Kelly
We often look towards Nippon and the Far East with a mixture of interest, fascination and astonishment. We wonder about the cultural phenomenons and musical surprises Japan is offering us. Discovering that this guy from Berlin takes the youth of Tokyo by storm, has got a following of hysterical fans behind him and is selling loads of copies of his German language Japanese debut
album made us curious. When we discovered that Konishi from Pizzicato Five is among the fans of this charming P!O!P!-singer as well we knew: We have to listen! Because it's well known that on the streets of
Shibuya people are aware of what is hip!
It's Space Kelly who we are talking about, who now releases "Erster Alles", his second album following the debut "Das Leben ist kein Heimspiel" from five years ago! But Space Kelly used his time well offering fresh singles with in a relaxed summer vibe like "Die schönsten Mädchen gibt es
in Amsterdam" or "September Mädchen". He also introduced the now legendary Space-Kelly-club-nights, where the core of international guitar-P!O!P! (Douglas Stewart
from the scottish C86-heroes BMX Bandits as well as German hot-on-the-scene geezers Knarf Rellöm, Andreas Dorau
and Camping among others) said "hello". "Erster Alles" includes all singles which were met with euphoric reviews
in the media and gained airplay (e.g. VIVA, VIVA2, MTV, ORB Fritz and more). "Erster Alles" is an impressive, breezy P!O!P!-album with songs that have the invitation to
join in written all over them. And don't miss the lyrics for some serious tongue-in-cheek experiences! Pattino (Lemonbabies) followed this invitation as a producer on three tracks, Suzie Kerstgens of German melodic-popsters Ralley accompanied Space Kelly on the vocals for the bitter-sweet duet "Sozusagen Schluss gemacht".
Space Kelly are:
Space Kelly
Booking:
lounge records
Contact them:
space-kelly@apricot-records.de
Official Website:
http://www.space-kelly.de