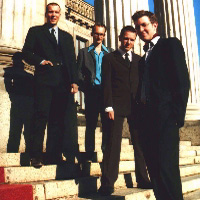 Brideshead
Brideshead formed in spring 1993 in Wiesbaden/Germany. But their initially chosen name Starfish was dropped before their first release in 1995. Various lineup changes came to happen before their current lineup is a steady one since end of 1997 with five members from Wiesbaden and Frankfurt. Their album was recorded in 1998 and a great u.s. tour took place in 1999. Their music can be described as guitarpop, but not with regard to the charts, rather in the vein of the great eighties guitar pop bands.
Brideshead are:
Martin Nelte - Vocals
Zwen Keller - Guitar
Hanns-Christian Mahler - Guitar
Paul Engling - Bass
Burkhard Meldt - Drums

Their music:
same story different day (4641 kb)
the lie that tells the truth (266 kb)
books & tv (1979 kb)
present time (5479 kb)
when I'm in love
shortsightedness (3553 kb)
someday (3656 kb)
leaf-h (5495 kb)
the fair sex (8267 kb)
arrogance or elegance (4-track demo) (5274 kb)
me and the stars
the world stopped turning
love in june
Their releases:
in and out love
this is mall music
comeback
Booking:
apricot records
Contact them:
brideshead@apricot-records.de
Official Website:
http://www.brideshead.de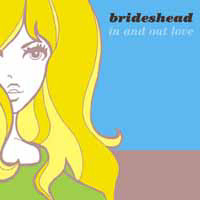 Brideshead
in and out love
Shop:
apricd020
aprivin020

sebastian and charles were lying under this wonderful tree in their white suits and the golden summer sun is glittering through the leafage. the two oxford students are drinking champagne and eating strawberries. in this perfect moment they've got a feeling that their friendship and this summer will never end and that they could lay in the grass or in the sun on the roof of brideshead castle forever and ever - celebrating their youth.
this is a scene from evelyn waugh's classical novel brideshead revisited. it describes one of these rare and special moments that should last forever. Five young students got so much impressed by this spirit of the TV series with the same name in their early teens (and later by the book in their early twens) that they called their P!O!P! band "brideshead". combining the best in P!O!P! e. g. the summer of 82' (with bands like orange juice and lloyd cole), the class of 86' (mighty mighty, mc carthy or bodines) and the freshness of swedish P!O!P! in the 90' (eggstone, cardigans) brideshead released since 1995 the ep "this is mall music" (the first record on apricot records), their album "some people have all the fun" (on marsh marigold) and several 7" vinyl singles. their new album contains completely new tracks, unreleased songs and tracks for the first time on cd from their vinyl singles (released on the us label shelflife records, the german marsh marigold and apricot records). this record gives you an overview over the last 7 years of brideshead's music – till today: brideshead revisited.
let us invite you to a bath of jangly guitars, timeless melodies and a gentle voice by a band once called the best english-vocal-band currently around in germany.



Tracklist:
1 same story different day
2 the lie that tells the truth
3 books & tv
4 sincerely yours
5 swinging love
6 books'n'bossa
7 present time
8 if you could love me
9 on your trail
10 sysiphos
11 when I'm in love
12 life is scheduled
13 no answer
14 morning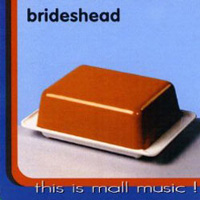 Brideshead
this is mall music
Shop:
apric001

german guitar pop with english lyrics that brings to mind the best of mid 80's guitar pop. first release of brideshead ...- nowadays already a guitar-P!O!P! classic.



Tracklist:
1 shortsightedness
2 someday
3 leaf-h
4 the fair sex
5 arrogance or elegance (4-track demo)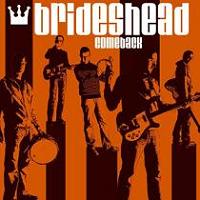 Brideshead
comeback
Shop:
aprivin034

the comeback from brideshead celebrates four new songs from the guitar pop band. now with their new drummer burkhard, the band was recently recording four tunes, with influences from swedpop to 80s pop - well, brideshead at its best.


Tracklist:
1 me and the stars
2 weather report
3 the world stopped turning
4 love in june